Case Studies
In these case studies, you'll find out how Agents of Value helps clients. AoV improve their processes by providing innovative, technology-driven solutions, thereby propelling business growth.
Cloudica Client as an Agent Monitoring Application
In the field of business process outsourcing, transparency is important in order to establish trust between a client and an agent. Agents of Value provides clients and project managers access to real-time monitoring of their agent's work performance. It is through their proprietary remote monitoring software called Cloudica.
The project called AgentGuardian is in its early stage. It's an application that enables managers (clients, supervisors, project managers, HR, etc) to monitor and regulate their agent's activities. During its development ended in 2015, additional features and functionalities have added to make it a more complete system.
Background
At its core, AgentGuardian and Cloudica function the same way. Along with extra added features, Cloudica developed as the next-generation monitoring system. It is to address the issues and other shortcomings of its predecessor.
What is Cloudica?
Cloudica is a Human Resources Management System made up of three major components. Employee Information Portal (EIP), Employee Monitoring, and the Cloudica Dashboard.
The EIP serves as a gateway for the employee profile databank. This will serve as the company databank for relevant information. Such as employee & company profiles, operation schedules, offices, departments, and other related data.
The Cloudica Client Software is the monitoring application. It allows managers to track and log an employee's activities on the computer during a workday. Data recorded include the following: 
Employee work hours

Keystrokes and screens/pages accessed

Periodic snapshots of the employee if a webcam installed

Apps/programs/processes opened and used

Employee daily report

Tasks and how long they took to complete
Authorized users can then access the collected data via the Cloudica Dashboard.
How It Works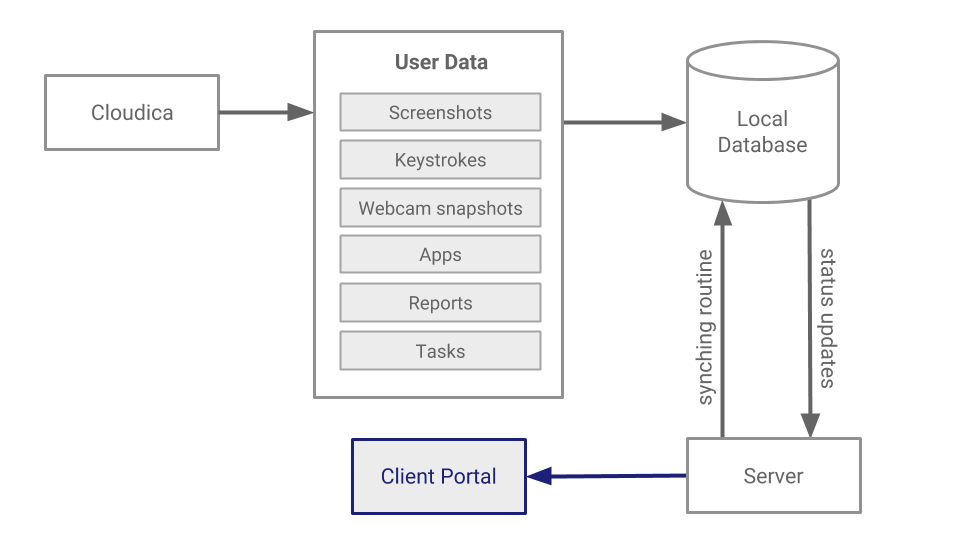 The software works once the user logs in. It captures remote user data from the machine where it's installed and stores them in local DB. A synching routine runs in the background to check for new data. And then, performs an http/https-based request to the server. The client's response is processed and the synchronization status is updated.
The Cloudica Client Software has managed to address AgentGuardian problem and issues encountered:
AgentGuardian is date-based which means separate timesheets for shifts that span between days (agents that work on night shifts). Cloudica Client is schedule-based so there will only be a single timesheet per shift regardless of the date.

AgentGuardian does not support multi-login and overwrites data from the previously logged in machine. Cloudica allows you to log on to several computers. The application will just track and sync up all your data.

Cheat-proof. Users will not trick the application by changing the computer time to manipulate their work hours.

Cloudica syncs every minute so tracking updates are always close to real-time.

Users will be able to see both their actual logged time and synced time. So, it will be easier to track if there are syncing issues. AgentGuardian only displays the synced time.
Several points to consider when using this application:
The software will only start tracking once the user logs into the application;

Abrupt changes in the schedule during a shift might mess up the timesheet for the day;

The application is only available for use on Windows OS.
Further Improvements
Only a few minor features and bug fixes have been introduce since the application's development officially halted. There are no vital improvements planned in the near future.
Driver Equipment Manager & Program Issue Tracker System
A flatbed transportation company has teamed up with AoV that supplies equipment for their services. It is to develop a systematic solution to manage and track the circulation of items from their various branches. Then, build a centralized inventory for it with a Driver Equipment Management Program Issue Tracker.
Background
Handling transportation services for industrial materials such as steel, machinery or gas oftentimes require certain equipment to handle. This equipment includes binders, rubber belting, and steel tarps. You have to purchased or ordered from other places because these items are not on hand. It is quite inconvenient due to the fact that drivers are always moving from various locations and go back every time they pick up their items. It's inefficient because of the extra amount of time and effort required to accomplish such a task.
Thus, aside from the transportation services, the company also has shops in different locations. It can directly provide necessary equipment for these deliveries. The Driver Equipment Management Program Issue Tracker designed to further optimize this model. This is by introducing an inventory system to make the items easily accessible to their users from different locations.
How It Works
The Driver Equipment Management Program Issue Tracker developed by Agents of Value. It is an inventory system that catalogs all the items from the company's shops. This makes them available to their drivers for purchase or rent without personally visiting the shops themselves.
This works by allowing users access to the inventory through the system. And then, purchase or borrow these items and choose the most convenient location that will be available for pickup. Once all the requirements are processed and also transactions like online payments are done. Will notify the user when their equipment is ready for pickup.
The system also monitors the circulation of these equipment and provide up-to-date information. By keeping track of their availability as well as check for anything that needs restocking, replacements or repair.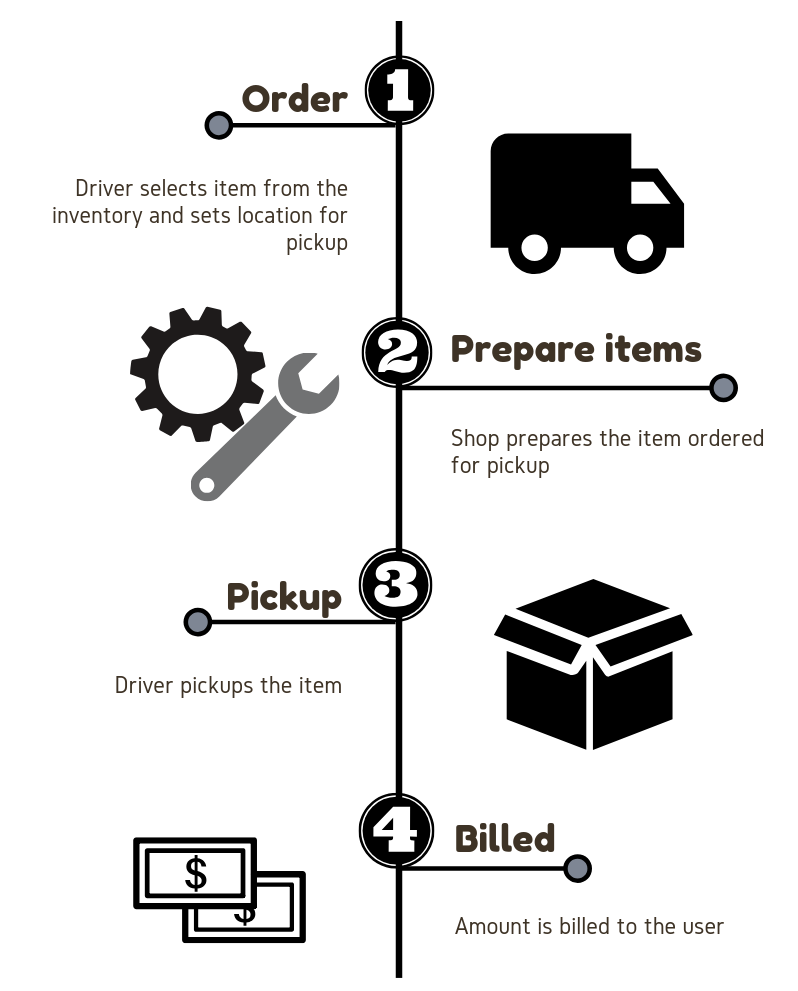 Results and Further Improvements
The system aimed to help the company manage its operation efficiently. By the end of the project, the Driver Equipment Management Program Issue Tracker has managed to:
Offer an efficient solution for the company to directly provide items for their transportation services.
Save time and effort because the inventory already provides all the necessary information for purchase. Without any hassle like checking store to store for item availability.
Ready to start an awesome project with us?