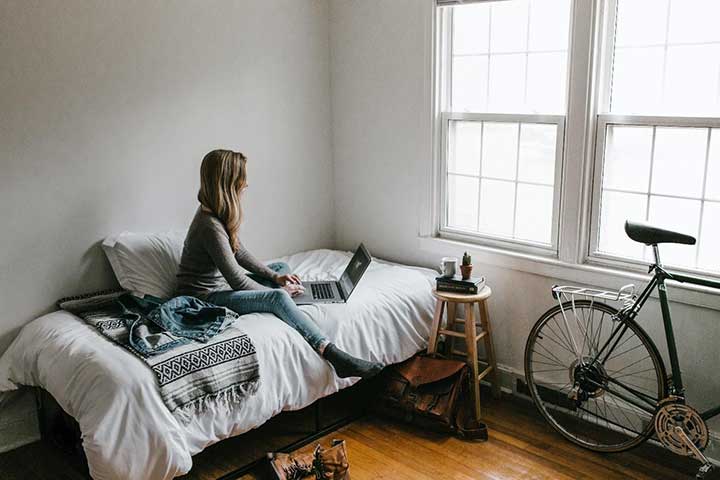 Nothing beats the immediacy and efficiency of working with your employees in person. But given the current pandemic situation, most businesses have resorted to a remote setup to keep their operations up and running without risking the safety of their employees. Remote work has been around for years, but if you're just starting to implement this and feeling a bit lost regarding the proper and effective ways or tools to manage remote workers, here are some suggestions:
Communication tools
Email is a great way to communicate with employees and clients, but it's not an effective communication tool for remote workers.
Since you won't be able to work with them in person, both you and your remote employees need a messaging tool that is easy to install and use can send and deliver real-time responses, easily track conversations, and more.
Here are some of the best communication tools available today:
1. Slack
Slack is a simple yet powerful communication tool built for businesses of all sizes. Known for its intuitive user experience (UX) design, some of its features are:
Direct chats (peer-to-peer messaging)
File sharing
Collaboration
App integrations (Zoom, Google Drive, etc.)
It also has a unique feature where users can create separate channels for anything, whether work-related or just for fun. Channels come in the form of a hashtag— one click and users will be able to access everything in a specific channel, which allows for easy access of files and important messages among colleagues, and most importantly, saves everyone valuable time.
To know more about Slack, click here.
2. Google Hangouts
If you're already using Gmail and other Google apps in your company, then Google Hangouts will fit right in as your communication tool for remote employees.
Google Hangouts is a simple, no-fuss messaging platform that comes with Gmail, but it can also be downloaded separately. It's a pretty straightforward app that enables real-time direct messaging with specific users, as well as group chats and video calls. And because it's owned and made by Google, it allows for integration with other Google apps, such as Google Calendar and Google Drive.
For more information about Google Hangouts, click here.
Conference call tools
This is similar to the communication tools listed above— in fact, Slack and Google Hangouts can also be used for conference calls. But the following are your best bets when you want to focus on team meetings via video/voice calls:
3. Zoom
Zoom is a web video conferencing platform that has been around since 2011, but has gained more worldwide recognition when the pandemic forced most schools and businesses to operate remotely. In fact, it is the most-used video call app in most parts of the world.
Zoom prides itself in its capability to hold large web conferences, as it can support up to 1000 video participants and 49 videos on screen. It's a great choice for businesses with a large number of remote employees. You can also do the following on Zoom:
Share screens simultaneously
Create custom meeting links
Record meetings (with searchable transcripts)
Streamline calendar meetings (can integrate with Outlook, Gmail, or iCal)
Have access to archives for up to 10 years
For more information about Zoom, click here.
4. GoToMeeting
Specifically designed and created for businesses, GoToMeeting is also a great web conferencing tool you can use to virtually get in touch with your remote workers. Some of its features include:
Video conferencing with up to 250 participants
Calendar integrations
Personal meeting rooms
On-screen drawing/highlighting tools
Automatic transcriptions of meetings
Commuter mode for remote workers on-the-go
Learn more about GoToMeeting here.
Project management/collaboration tools
Managing tasks and ensuring productivity among employees are just two of the challenges you'll be facing in a remote setting since you can't personally be with your team to oversee their projects and make sure that they are working on the supposed time that they should. To help you with this, we've listed three of the best project management/collaboration tools out there, since email is not going to be as effective in terms of assigning tasks and tracking work progress:
5. Trello
Trello is one of the most recommended project management tools today. It features a cardboard-like dashboard that allows you to easily create steps, assign projects, and track your remote employees' progress on specific tasks. It also allows for efficient commenting and collaboration among team members, as well as image and file sharing, calendar view, and list organization.
This project management tool is free to use for starters, but if you want to integrate Trello with other apps such as MailChimp, Dropbox, and Google Drive, the rate is $9.99/month/user, to be paid annually. To learn more, click here.
6. Asana
If you want a project management tool that's easy-to-use with a simple, no-fuss design, try Asana. Aside from project management, it can also be used for file sharing/storage and collaboration.
With Asana, you can:
Organize your remote team's tasks into projects for timelines and roadmaps
Easily break down a project into tasks and assign them to your team
Review milestones
Label tasks according to priority level for easy checking and management
Adjust task duration and change task status using drag and drop mode
Get notified when there are new updates on projects
For information on pricing and features, click here.
7. Basecamp
For projects with multiple teams, consider Basecamp as your project management tool. With its modern interface and carefree collaboration options for teams, you and your remote employees can greatly benefit from Basecamp.
Some of its top features are:
Message boards for teams to discuss new projects/ideas
Project performance reporting
In-app team collaboration
Separate dashboard only for clients
Automatic check-ins for projects (can be scheduled according to you)
Image and file sharing
To-do lists of tasks for projects
Easy viewing of all ongoing, overdue, or pending tasks, as well as milestones and more
To learn more about Basecamp's features and pricing, click here.
File sharing/storage tools
Project management tools allow for file sharing of various documents, photos, and videos, but they're not enough if you're managing remote employees. You need a secure, reliable, and separate storage app specifically for storing files of all kinds. Here are some suggestions:
8. Dropbox
Dropbox is probably one of the famous file-sharing tools out there, and it has proven itself to be a reliable and efficient software over the years. With its numerous features and integrations that keep evolving (including the new and improved desktop client).
Dropbox can be considered as a suitable choice for you and your remote workers.
With Dropbox, you can:
Integrate other apps and work in one place (G Suite, Microsoft Office, Slack, Zoom, and more)
Store files and access them with any device
Create and edit documents
Plan meetings with calendar integration
Work with your team using Paper, Dropbox's new collaborative workspace that lets you and your team create tasks, reminders, and more
Want to know more? click here.
9. Google Drive
Google Drive is also a very popular choice for a file-sharing tool, but it doesn't only function as such. Like Dropbox, it can also be a collaborative tool for you and your remote workers, as it allows multiple users to access, edit, and contribute to files simultaneously and in real-time.
In 2018, Google also announced an upgrade to the "Shared with me" tab— it now uses AI to predict the files that you need to access most, therefore saving you and your team valuable time from scouring through files.
For more information on Google Drive, click here.
Time tracking tools
When you're in an office setting, you probably won't need a time tracking tool since you have direct contact with your employees and can oversee them as often as you can. However, this isn't the case with remote workers. To effectively manage their productivity, you need a reliable time tracking tool that can monitor their activities during work hours.
Here is some time-management software for your Remote Workers to consider:
10. Time Doctor
This powerful time tracking tool is regarded as one of the best in the industry, and is used by high profile companies such as Apple, Verizon, and PwC. Time Doctor lets you calculate important data from your remote workers, such as the tasks they are working on, time spent on each task, sites visited, log in/log out times, and client billable hours.
Time Doctor's features include:
Simple time tracking using a timer
Poor usage monitoring (for websites that are not work-related, such as social media sites
Inactivity tracker
Advanced reports (timesheet, time use, timeline, time spent on projects, attendance, web/app usage, and poor time usage)
Integrations and add-ons for other tools such as Google Apps, Asana, Basecamp, and more
Visit their website to learn more about how Time Doctor can help you track your remote employees' work hours.
11. Timely
Timely is a great time tracking software especially if you want to closely identify what your remote employees are doing during work hours. It categorizes time based on tasks, websites accessed, and tools used, so you can fully monitor which areas of the job your remote workers are spending the most and least time on.
Other features include:
Automated time tracking and timesheets
Real-time KPI tracking
Real-time dashboards and synchronized scheduling for teams
Project time management (milestones, task breakdown, bulk edit)
Click here to learn more about Timely's features and pricing.