Having a hard time looking where to buy dropped domains? Here are some tips or guides you must know first. Most people that want to buy domains just go to GoDaddy and start typing in different combinations of domain ideas. They get frustrated when all of the obvious domain names they want to register are already taken. They end up settling for a name that they don't really love for their new website project.
It's true that millions of domains have already been registered. But what a lot of people don't realize is that lots of domains expire every single day. In fact, as of January 2012, about 70,000 domain names drop every single day. This means that a great name that you might want may suddenly be available one day, after having been registered for years.
Here are a few tips about buying dropped domains:
Dropped domain names will have a new registration date
Dropped domain names will have a new registration date after you register them. That's different from pre-release domains which can be back-ordered through a service like NameJet. This has some advantages and disadvantages. It means that the domain has a fresh new life, separate from whatever the previous owner of the domain did. So any penalties the domain might have had with a search engine will likely have expired. On the other hand, any old backlinks to the old domain would likely be discredited too.
Usually more than 70 days past the expiration date of the domain.
It takes quite a while before a domain is actually dropped – usually more than 70 days past the expiration date of the domain. After the registration date passes, a domain is considered to be 'expired'. 'Expired' state lasts for about 45 days. From there, it passes into the redemption period for 30 days. During the redemption period, an original owner can pay a fee to have the domain restored, usually around $250. If the original owner still hasn't renewed the domain after 30 days in the redemption period, it passes into pending delete status. After 5 days in pending delete status, the domain will drop around 2pm EST.
The best domains will be back-ordered when they are in 'expired' status
If the original owner does not re-register the domain before the end of 45 days, these in demand domains will be auctioned to the highest bidder. These auctions start with a minimum fee of about $69, and can go to several thousand dollars or more.
There can be fierce competition for the best dropping domains.
Many domain name investors use a drop catching service or their own drop catching software to try to grab the best names.
For $35, you can buy a drop catching software called Snatcher to increase your chances of winning the fight for a semi-competitive dropping domain name. Any name you register using Snatcher is yours for only the cost of a domain name registration ($10 or so).
Several websites publish lists of pending delete names (names which will drop within 5 days).
You can browse the names directly at NameJet. Also, Generic Domain finder has a filtered list of pending delete names, which saves the time of searching through all 70,000 names, many of which are very low quality.
You can watch the drop live as it happens every day at 2pm EST, to see which names become available and which ones are drop caught.
Generic Domain Finder also has a list of all dropped domains starting from January 2012. It's updated daily to check which domain names were registered. This is a great place to start building up a domain portfolio, as many good domains are still available within a few days of dropping.
Here's a chart from pool.com, showing the entire life cycle of a domain name.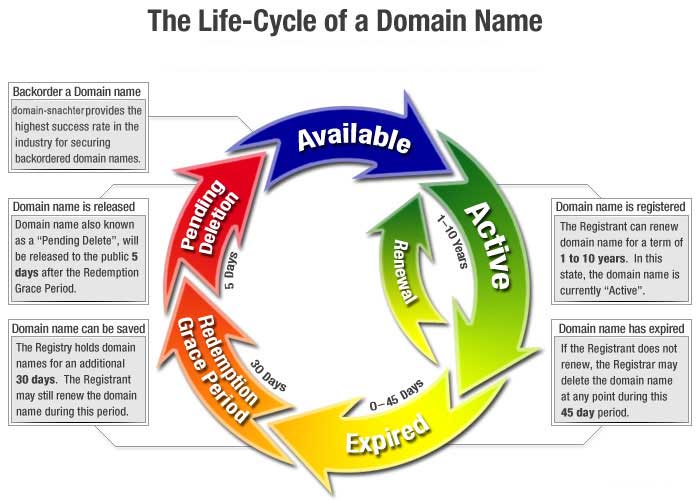 Leave comments if you have any good tips for buying good dropped domain names.